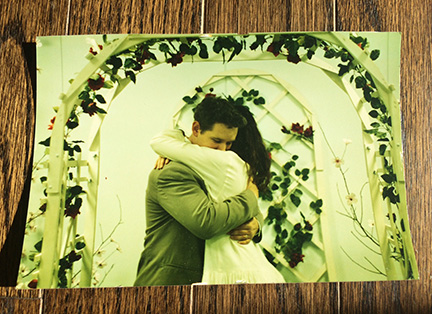 Today is our 21st wedding anniversary. (Officially, our marriage is legal to drink in the U.S. :P)
Over two decades ago, my husband Mike and I were married at the courthouse in Towson, Maryland. We couldn't afford a large wedding. We were right out of college, both graduating in the mid-1990s during a recession. (My best friend who worked as a cashier at a foodstore was making more money than I did with a degree in graphic design and copywriting.)
Mike wore a suit he used for job interviews. Unable to find an affordable white dress in the winter, I wore a cream-colored one from The Limited. A dress I'd bought several years prior and had worn since high school.
We kept it small. Just our immediate family. I wanted to invite friends but our parents were paying for lunch after the ceremony. I didn't want them to feel compelled to feed more mouths, and I didn't want to only invite only a few friends and leave any out. At first, we planned to have the lunch reception at a nice restaurant off a lovely country road. But my father-in-law had to appear in court that afternoon. He'd witnessed a car accident and they asked him to testify, and he couldn't be late.
We decided to eat near the courthouse at TGI Friday's. It wasn't a fancy reception. But it didn't matter. We were with our family, and that afternoon I was moving into my first apartment with the man I loved. TGI Friday's food will always taste like happiness to me.
My mother-in-law gave us money to use toward the wedding or a honeymoon. When I was a child, I dreamed about seeing Disney World. But my single mom couldn't afford to take me. She told me I should go on my honeymoon. Mike loved Disney films as much as I did. It didn't take much convincing. We stayed for a week at the Disney World Port Orleans hotel. The parks and the resort were as magical as I'd dreamed.
We've had ups and downs throughout the last decades. Through it all, our marriage has never lost the magic of that first year together or our silly love of Disney and cartoons.